This is a companion page to the Santa Cruz Calendar!

Last updated: 12/20/2003


"Denied the status of refugees, tens of thousands of Roma from Kosovo languish in temporary camps or move across borders with no hope of permanency or protection. Yet the world remains silent. Roma of Kosovo need your help more than ever." For additional information: call (707) 823-7941, fax (707) 829-1893, email: trinroma@pacbell.net , or check our website: wwww.scn.org/roma.


For articles by Šani (Shani) Rifati a Rom activist from Kosovo, International human rights monitor and educator and president of non profit organization "Voice of Roma".

wwww.scn.org/roma

.. Are you with a school and do you want

Šani

to give a lecture? Contact him at (707) 823-7941 or

trinroma@pacbell.net

Šani.

Did You know the Mayor of Santa Cruz Declared
5/15
The Voice of Roma day?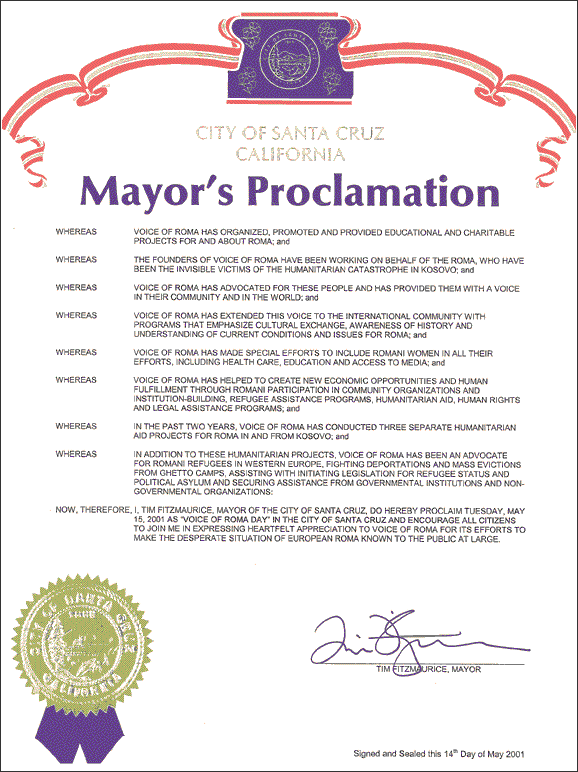 .

Thank you Šani Rifati and Paul Polansky for you massive effort tho get the message out:





Usten Romalen !

Valeriu Nicolae valeriu12@hotmail.com
a web-site dealing with problems facing Roma communities is South East Europe: http://users.pcnet.ro/helin/11mrg.html
For those of you not able to see it talk to your network administrator about giving you permission to download Flash plugins ( the download dialog will appear as soon as you try to access the site it takes about 2 sec for a slow connection and is absolutely safe).



HELSINKI COMMISSION NEWS Commission on Security and Cooperation in Europe

234 Ford House Office Building, Washington, D.C. 20515-6460

Sen. Ben Nighthorse Campbell, Chairman

Rep. Christopher H. Smith, Co-Chairman





Helsinki Commission Leaders Recall Romani Holocaust Tragedy

OSCE States Urged to Fulfill Obligations to Roma




(Washington) - United States Helsinki Commission

leaders today remembered the anniversary of the Romani

Holocaust observed annually on August 2nd and 3rd.




During the night of August 2-3, 1944, the Romani camp

at Auschwitz-Birkenau was liquidated. Nearly three

thousand Romani men, women and children were killed in

the gas chambers in a single night. Roma around the

globe have come to remember their Holocaust

experiences on these days.




"The single most defining experience for Roma in the

20th century was the Holocaust, known in Romani as the

Porrajmos, the Devouring," said Helsinki Commission

Chairman Senator Ben Nighthorse Campbell (R-CO).

"During World War II, Roma were targeted for death by

the Nazis based on their ethnicity.

At least 23,000 Roma were delivered to Auschwitz.

Almost all of them perished in the gas chambers or

from starvation, exhaustion or disease."




"The Helsinki Commission held our third hearing on

Roma in April of this year," said Commission

Co-Chairman Rep. Christopher H. Smith (R-NJ).

"Testimony at these hearings reflected the magnitude

of the discrimination and violence still confronting

Roma in many countries. Violent attacks against Roma,

including murders, often go unpunished, such as the

arson murder of a family of five in Ukraine last

October."




"At the 1999 Istanbul Summit, the Organization for

Security and Cooperation in Europe participating

States agreed to adopt anti-discrimination

legislation to protect Roma," said Commission Ranking

Member Rep. Steny H. Hoyer (D-MD). "The adoption in

2000 of the European Union's 'race directive,' which

requires all EU member states and applicant countries

to adopt comprehensive anti-discrimination

legislation, should spur this effort."




In certain countries, political leaders use Nazi-era

rhetoric, describing Roma as "asocial," or defending

repressive measures against Roma as "social

hygiene measures," implying that they are inherently

unfit for European society. More than half a century

after Roma suffered forced sterilization at the hands

of Joseph Mengele and others, some public officials

openly speak of limiting Romani birth rates.




Roma were among those targeted for complete

annihilation by the Nazis; however, their suffering

before and during World War II is not well known.

During the 1920s and 1930s, institutionalized racism

against Roma took on an increasingly virulent form.

Policies similar to those instituted against

Germany's Jews were also implemented against Roma:




* race-based denial of the right to vote;

* forced sterilization;

* loss of citizenship, incarceration in work or




concentration camps;

* deportation and subsequent annihilation at

death camps.




In addition to their systematic destruction at

Auschwitz, Roma were killed elsewhere in

German-occupied territory by special SS squads,

regular army

units or police, often shot at the village's edge and

dumped into mass graves.




It is difficult to estimate the size of the pre-war

European Romani population and war-time losses. Some

scholars, however, suggest the size of the Romani

population in Germany and German-occupied territories

was around 942,000 and that 500,000 Roma were killed

during the Holocaust.




Approximately 25,000 Roma from Romania were deported

en masse to Transnistria in Romanian-occupied Ukraine

in 1942; some 19,000 of them perished there.




After World War II, the post-Nazi German Government

strongly resisted redressing past wrongs committed

against Roma, seeking to limit its accountability. The

first German trial decision to recognize that Roma as

well as Jews were genocide victims during the Third

Reich was not handed down until 1991.




Public awareness of the nature and extent of Romani

losses continues to expand as new archival material

becomes available and new generations of researchers

examine the Holocaust experiences of Roma.




The Helsinki Commission maintains on its Internet Web

site an archive of hearing and briefing publications,

Congressional Record Statements, reports, press

releases and CSCE Digest articles organized by issues

and countries.




Commission materials relating to Roma are located on

the Commission's Roma Web page.

http://www.csce.gov/issue_query.cfm?issue_id=14




Additional information about the Romani Holocaust

experience is available through the U.S. Holocaust

Memorial Museum. http://www.ushmm.org




The United States Helsinki Commission, an independent

federal agency, by law monitors and encourages

progress in implementing provisions of the Helsinki

Accords. The Commission, created in 1976, is composed

of nine Senators, nine Representatives and one

official each from the Departments of State, Defense

and Commerce.




PHRALIPE + JEKHIPE = ZURALIPE





ROMANY INFORMATION SERVICE - www.romea.cz


(Messages from de Editor/ Mensages de la Redactora)
from<ustiben.2@ntlworld.com>

10 December 2001(This is old but I am leaving it in for now, because it was such a representative fight. Yes, she lost and was deported by the next december. And for every story that gets out, hundreds do not. C)

ROMA ASK IRELAND TO ACCEPT SURVIVORS

Roma protesters gathered outside the Irish Embassy in London yesterday to seek a humane end to the Wexford tragedy. They handed in a petition asking the Irish Government to grant residence to the five survivors. The 40 demonstrators carried a placard calling on Ireland to "Accept the Wexford survivors & Anita Dolinska," the young Polish Romani mother currently facing deportation. "We heard they might all be deported," said Dr Boris Muntyanu, chairman of the Odessa region Romani Congress. "Surely Ireland will not be so unkind on the eve of Christmas."

Dr Muntyanu, himeslf an asylum-seeker, said at a press conference held by the European Roma Federation, that Roma across Europe were facing a rising tide of racial attacks by neo-nazi and other extreme groups, reminiscent of the persecution of Jews in the 1930s. A UK Green Party MEP, Jean Lambert, said in a statement that she was shocked by the level of harassment faced by Roma asylum-seekers in Britain. She called for an immediate halt to the policy of fast-track deportations and an end to the use of 'snatch squads', which had recently lead to the death of a Ghanian refugee while fleeing Immigration officers.
"The EU needs to adopt a common policy on asylum," said Ms Lambert. "We can't allow more tragedies like Wexford. There must be a more humane way."

As part of a day of action to mark UN Human Rights Day, protests were held outside the embassies of Bulgaria, Romania, Slovakia, Poland, the Ukraine and the Czech Republic. Bulgarian Rom activists Toma Nikolaeff commented, "We have no country of our own - all we ask is that the host countries protect us and curb human rights abuses." A demonstration by the ERF at the Home Office, against snatch-squads and detention, was supported by Iranian refugees. Bob Russell, Liberal MP, also attended in solidarity with the present plight of hundreds of Roma asylum-seekers held in detention in the UK.

London Assembly member Jenny Jones, Greens, sent a message of support. National Travellers Action Group chairman Cliff Codona said the fate of 37 families at the private Woodside caravan site would be settled by
a planning inquiry this week (Friday). The final decision rested with local government minsiter Steven Byers.
"My wife Janie and I are now visiting Roma in detention centres," said Mr Codona. "We are finding out their situation is the same as ours - we are all unwanted."

(Ed. Note:I HAD NOT HEARD ABOUT THE "WEXFORD TRAGEDY" UNTIL NOW, BUT I RECOGNIZED
Anita Dolinska OF THIS: of 12/5)
Anita Dolinska is a young Polish Roma woman who has lived in Ireland with her 2-year-old son.
Since January 2000. Her asylum claim was refused, as the violence and discrimination suffered by her were not seen to be sufficient to be classed as persecution. She made an appeal for humanitarian leave to remain in Ireland to the Minister for Justice, Equality & Law Reform in August 2000 and received a letter from him dated 22 November 2001 saying that he proposes to make a deportation order for her and her son. She has 15 working days from the date of this letter to make further representations for humanitarian leave to remain in Ireland. Since arriving here she has learned to speak, read and write English. She had very little education in Poland. What education she did receive was confined to being kept at the back of a classroom and ignored because she is Roma. She has spent all her time here studying English and working in the
community in a voluntary capacity. She is on the committee of the Friendship Club for immigrants into Ireland,
run by the Methodist Presbyterian Church in Galway and is well respected there. She is a Roman Catholic who has been unable to make her First Communion of Confirmation in Poland. She is preparing to make her First Communion at present. She has just been voted on to the Management Committee of the Galway One World Centre, a Development Education Centre, for the second year running. She is strongly involved with the Roma Support network in Ireland, which was founded, at her instigation. The group is made up of Roma, Travellers,
Irish, Europeans and Africans and Asians, all of whom commit to give support to the Roma community. She has been involved in an International Study Circle on Migrant Workers facilitated by the Irish Congress of Trade Unions, one of only 16 people in Ireland to involved with this project, which networked internationally with Trade Union groups worldwide.

She has interpreted in a voluntary capacity at hospitals, Garda Stations, Courthouse, and Solicitors and at meetings involving Roma and English speakers. She has shown her commitment to environmental issues and human rights on an ongoing basis. Her son has spent more than three quarters of his life here and is beginning
to speak English. How much more does Anita have to do to show what she has to contribute to Ireland? She has spent the last 14 months doing everything she can to make a contribution to this country. She has broken no laws. She has shown herself to be an example of the dignity of the Roma people. She is not a street beggar and asserts that this behaviour is not a dignified way for Roma to earn their living and is disrespectful to the hospitality of the Irish people. She has suffered for 14 months, each day waiting for a letter from The Minister deciding on her appeal. She heard nothing in reply to her appeal until 26 November this year. She is devastated by his decision. The Irish Times (page3) 26 November in relation to another asylum case
states: "Minister O'Donoghue is prepared to take humanitarian concerns into account
when making a final decision." The appeal for humanitarian leave to remain in Ireland, however, is not just
about what Anita can offer to her new homeland. It is concerned with the Minister for Justice making a decision for humanitarian reasons to permit her to remain here.

In Anita's case, should she be deported, what will she face? She will be homeless, with no means of earning an income and with a small child that she cannot support. What is to happen to him? Anita came to Ireland because of being subjected to brutal beatings and ongoing discrimination by the authorities, skinhead and neo-fascist groups and many people in her country. As a woman, she will also have to deal with being returned to a society in which the traditional roles of women are clearly defined and where marriage is the only career acceptable for a young Roma woman. She is not prepared to be forced into an arranged marriage as by doing so she fears she would also lose her son as her tradition would feel that a new father would not have any commitment to him. Other family members would bring him up and Anita would have no influence on his future.
If returned to Poland, she would not be able to continue her education. Her personal and academic growth would be curtailed. Anita needs ongoing medical help for a longstanding problem. Her son is prone to bronchial problems. She will not be able to avail of the treatment needed if she is returned to Poland.
Anita has lost so much already but she still has her dignity. Let us help her to keep that and to stay here with us in Ireland to contribute to our future as an open intercultural society. Did Britain, America, or Australia refuse the Irish in their time of need?

Have we forgotten what it feels like to be in Anita's position? Because today it feels like there is "No Room At The Inn" for this young woman and her child in a supposedly Christian country.

CAN THINGS GET WORSE? READ ON
RNN Exclusive/

'Rudko Kawczynski to be imprisioned in Germany, on Former concentration camp facility, for Civil Rights activities in 1990'

On November 9th 1990, several hundred Roma engaged in a protest march from Germany to the UNHCR headquarters in Geneva to demonstrate against the organization's Roma refugee policy. At the border the group of refugees was refused entrance into Switzerland. They then blocked the border station in Basel for seven days.

Due to this demonstration, more than 2000 Roma from former Yugoslavia received staying permissions in Germany. Most of them would have died most probably if they had been deported, in this time to that area. It is for this demonstration that Mr. Kawczynski has been sentenced to a 50-day jail term.Mr. Kawczynskis lawyer fought through all instances, ending up at the German constitutional court in 1994. The constitutional court has not made any
decision until now. More than 60 Roma organizations protested during the UN World Conference against Racism(Durban/South Africa September 2001) and on a press conference against German deportation practices.

For years the legal prosecutor waited for this decision to be made, but finally took action on end of October, lacking legal backing, sending Mr.Kawczynski a letter that he was to be imprisoned. He was delayed until 19th of November to go to Neuengamme.The former in sight of a Nazi concentration camp, half of the Neuengamme facility today is a memorial, the other half a prison. Until today, Roma and Sinti get imprisoned here in a place where their parents and grandparents were killed.

ASYLUM SEEKERS UNITE IN LONDON
Ladislav Balaz, chair of Eruope-Roma and a founder member of the Czech
Republic's Roma Civic initiative, said at a public meeting in London on 21 May
that the current UK general elections were stirring up more racism against
Roma refugees. The number being deported had risen sharply in recent weeks.
Himself an asylum seeker, Balaz was speaking at the AGM of Europe-Roma.
Convened to broaden the organization, it was attended by more than a hundred
Roma from Czec Republic, Bulgaria, Romania and Latvia, and their supporters.
Elected to the Europe-Roma steering committee, Florina Zoltan, a survivor of
Hadareni, the village in Romania burned down in a racial attack in 1993, said
her closest family, including her husband, were murdered by the mob. Founding
Romani Promise and projects for inter-ethnic relations, Mrs Zoltan took the
case of Hadareni to the Romanian courts. But the perpetrators were released
on the orders of President Ion Iliescu.
Since pursued by the Romanian security police, Florina Zoltan has now applied
for asylum in the UK. Meanwhile, the Hadareni pogrom is the subject of an
application to the Court of Human Rights in Strasbourg.
Co-ordinator of Europe-Roma Amanda Sebestyen said the new, larger Steering
Committee would enable the group to expand its work and develop fresh
strategies. So far, it had assisted in nearly 300 cases but many more Roma
refugees needed help.
SLAVERY ISSUE FOR CONFERENCE

The issue of Roma slavery could be raised by representatives attanding the UN
sponsored conference on racism, taking place in Durban, South Africa, at the
end of August.
Already, African nations are backing a resolution demanding that 19th century
slavery be declared "a crime against humanity" requiring substantial
reparations from the former slave states. Legal experts say once passed, the
terms used could have strong implications in international law for any country
which had permitted slavery.
Mary Robinson, former Irish president and now UN Commissioner for Human
Rights, says she is supporting the resolution. American diplomats have also
stated that they are ready to recognize all slavery as a crime against humanity.
In the case of Romania, the state itself as well as the church, at one time
owned many thousands of Roma slaves. Their status was similar in every
respect to that of African slaves on the plantations in the southern United
States, according to historical studies.
Roma slaves wore chains on their hands and feet, and even iron rings around
their necks. Flogging, starvation and exposure was common, separation of
children from parents a regular procedure at slave markets.
In the mountains of Transylvania, Roma organized an "ustiben" and carried on
an armed struggle, fighting against attempts to capture and enslave them.
This insurrection led to the final abolition of slavery in 1856 when 200,000
Roma were released from bondage.
"The Society of Gypsies in Israel"
http://msnhomepages.talkcity.com/NonProfitBlvd/amoun_sleem/index.html



Bad Prospects for Carmen

Sinti and Roma complain about racism in Spain

Madrid / Spain (RNN Correspondent) 12.10.1998

"7000 Roma ask for more measures against racism from which they suffer since 475 years" was a headline in the Spanish newspaper "El Pais". The report said that the National Convention of the Roma ask for more social programmes and an own television channel in order to improve the bad picture that is given by the press about their people.
Due to surveys of the association "SOS racism", more than a third of the Spanish population would like to throw the Roma out of the country. Forty per cent of the Spaniards stated that under no circumstances they would marry a "gitano" (Roma). Nicanor Suarez, the president of the organization "Union Gitana" says: "In the newspapers we are always portrayed as beggars, criminals, or even drug dealers. They never report about our lawyers, professors or textile manufacturers."
The government of Madrid has not yet replied to the demand. But most of the Roma are certain that the government will not support it. Since 1994 the Roma are having a hard time with the government because the corrugated-iron huts of 22 families were pulled down and replaced by new wooden huts next to a rubbish dump. Only a few months ago they finally reached a settlement. After a representative of the Council of Europe had described the situation as unbearable for a developed country like Spain and had promised financial aid, half of the families were resettled to the southern outskirts of Madrid, about 3 km away from the next district.
From this resettlement slums like La Celsa or La Rosilla developed. And due to this many people automatically connect Roma with drug dealing, criticizes the newspaper "El Mundo".



Poem emailed to me by "Falcon:" 1/17

Posted by jack miller on November 14, 2000, 4:39 am Message translated by board administrator November 16, 2000, 4:27 am


Who are we?

We are called tramps thieves and beggars.

Who are you to condemn?

You who bound our lives,

In your scheme of a "the master race".

We are people without a homeland.

Our homeland is in our hearts and our minds.

We did not burn you or murder your children.

We did not experiment on children as though they were less than animals.

We are people who survived the holocaust.

We are people who survived and thrived.

You hate us but do you know us?

We are people,

We are not going to hurt or murder or steal

Let us heal.

Stop the hate its not to late to associate.

My son is nine he thinks we are fine.

Help not to change his mind.

Let him grow and learn.

Right is right and wrong is wrong.

Don't let him hear your wicked song.

We need to understand why does America stand?

Does it stand for fear isn't that queer?

It stands to understand.

We may be different

But we might be the same,

It is no longer a game.

Please help our plight

Be a part of our fight

Love is good hate is wrong

Let that be your final song.

Thank you this is our poem



From: ustibe n <ustibe.n@ntlworld.com>
Web Site: http://www.romani.org/ustiben.html
Romano Themutno Dives: ROMA NATION DAY----8 April

Members of the IRU Parliament meeting in Bratislava today are discussing among other topics the celebration of Roma Nation Day, which this year marks the 30-year Jubilee of the lst World Romani Congress. Chairman of the Parliament, Dragan Jevremovic as been asked to report on the progress in organizing the "March of 100,000", which is taking place on 8 April in many leading cities around the world. The march is in support of the recommendation adopted at the UN Human Rights Commission conference in Warsaw last November calling upon the UN to recognize the Roma Nation. Known as Point 5, the recommendation proposes that Roma be designated "a nation without terriroty" and given a seat in the UN General Assemnly. This proposal is also being backed at the first major Roma conference in South America, taking place in Quito, Ecuador, l3/16 March. The conference is being attended by Roma delegations from Argentina, Chile, Brazil, Ecuador, Mexico, the US and Canada.

"We declare ourselves to be a nation," said Venecer Gomez, of PROROM, Colombia, recently. "Our wish is to utilize Roma Nation Day for a militant mobilization of our people everywhere." The militant tedency will be evident at "Ustiben 2001" rallies and demonstrations in Bogota, Quito, Sao Paolo and Buenes Aires. In New York Roma will assenble outside the UN building, while others gather in San Francisco, Toronto and Vancouver.
In Europe, protests against racism are planned in London, Gent, Rome, Thessaloniki, Berlin, Bern, among other cities. Bigger celebrations for Roma Nation Day have been announced in Prague, Bucuresti, Belgrade, Zagreb, Sofia and Skopje. Many smaller towns, including Nis, Subotica, Kragujevac, Rijeka, Kumanovo, Tetovo, Plovdiv, Sliven, Kosice, Brno, Oprava, Jihlava, Oprava and Kladno will be markig the day with both celebrations and protest rallies.

The day will also see a number of commemorations for the Roma victims of the holocaust and present-day racist attacks, most prominent the enthic cleansing of the entire Roma community of Kosovo. The Lety concentration camp, now a pig farm, will be the subject of events in Lety itself, in Toronto and in London, where flowers will be cast into the River Thames in memory of all those who died. "This is a day both of celebration and sorrow," said Charles Smith, chair of the Gypsy Council. "In addition we are marking the 35-year jubilee of our organization."

He said he hoped the Roma Parliament would now give support and leadership to the Roma Nation Day


rallies going on around the globe. For the first time there would be events on 8 April in such far flung cities as Sydney and Jerusalem, and in Chisinau, Moldova, as well as Kiev, Moscow and Stockholm. "This promises to be the greatest manifestation yet for Roma rights and recognition," said Veerendra Rishi. "Indian Prime Minister Vajpayee is taking part in 8 April as a sign of his support." Rishi said he wished to see the impetus of Roma Nation Day carried forward, in Europe and America, to the World Conference Against Racism in Durban next August. The campaign for Roma Nation recognition and the combating of racist attack whevere they occur, must be waged ever harder.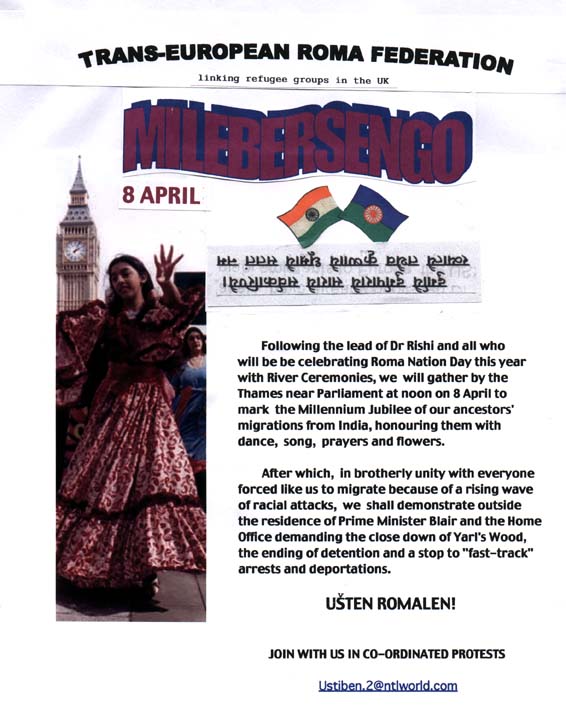 ORIGINAL SENDER: USTIBEN 5 <ustiben.5@ntlworld.com>
COMMEMORATION OF ROMA VICTIMS OF THE FASCIST FRANCO IN SPAIN
How many Roma were murdered by the fascists during the Franco era? Is it time we remembered these crimes and Commemorated our dead, with fill honours?

* * * * * *
Many Roma, inspired often by our own revolutionary Helios Gomez, participated in in the first open combat with fascism in the Spanish Civil War. Gomes saw the struggle in terms of a wider issue which would determine the fate of Roma everywhere - in Europe, in Russia and Central Asia and in South and North America. He helped to create the beginnings of a Romani movement and in an interview with Cronica said: "...from this war, which will produce so many great things, there must come even in Spain the vindication of the Roma."
EVERYWHERE ROMA ARE STILL VICTIMS OF RACISM
In the Spanish Civil War, under Franco, throughout the Third Reich and Occupied Europe, Roma were murdered for reasons of race and far-right politics. We remember the Holocaust, but the continued acts of racial violence, worse since 1990, are
often overlooked. The wholesale ethnic-cleansing of 120,000 Roma from Kosovo, numerous pogroms in Romania, Hungary, Bulgaria, the Czech Republic and Slovakia, and in Spain too, are ignored by the world. Our people, including notable personalities in Spain and South America, are saying the time has come to Commemorate all the Roma Victims.

Inspired by the opening this year of the Roma Holocaust Museum in Moscow and the River Ceremonies in 2002, it has been proposed that we hold a worldwide Commemoration Day on: SUNDAY, 1 August 2004

This coincides with the 60th Anniversary of the murder of the final 3,000 Roma prisoners in the Auschwitz Zigeunerlager (night of 2 and 3 August l944). Already events to mark this COMMEMORATION OF ROMA VICTIMS are being planned in the following cities:
BELGRADE
BERLIN
BORDEAUX
BRUSSELS
CHANDIGARH
KUMANOVO
LONDON
LOS ANGELES
MANCHESTER
MUMBAI
NEW YORK
PRAGUE
SIBIN
SOFIA
TBILISI
TROYES
VALETTA
VIENNA

Fuller information and an initial list of Roma victims will be published soon on romankongreso www.lafn.org/~romankongreso



Avenue Edouard Lacomble 17, 2nd floor
B-1040 Brussels, BELGIUM E-mail: erio-brussels@skynet.be


ERIO Staff Members meet with Representatives of the EU Directorate General for Education and Culture, October 29, 2003.

Today, European Roma Information Office (ERIO) representatives met with the staff of the EU Directorate General for Education and Culture. European society is facing social, economic, cultural and political change. In the framework of the accession, the social composition of the European Community will change very soon. In order to avoid a radical split between socially and economically advantaged and disadvantaged groups, the European Commission should devise its own strategy to tackle this very sensitive issue. Ms. Angela Kocze, Executive Director of ERIO, presented an overview of the problems of access to quality education for Roma children. One of the main issues which was addressed at the meeting was the need for better state policies designed to improve the socio-economic situation of young Roma people and their social integration, as well as diminishing their exclusion and segregation within the educational system. The young Roma population in Europe is at this time highly likely to face educational discrimination and racial segregation in various educational institutions. If societies cannot find ways to ensure that all parts of the population have equal opportunities and can participate fully in society, the results are very serious. Ms. Kocze, stressed: "When people are deprived of opportunities to improve their situation, social cohesion is at risk, and this may result in higher social costs in the form of greater health care needs, more social assistance payments and higher rates of delinquency and criminality."


The most recent Resolution on education of Roma was passed by the Council of Ministers of Education, 89/C 153/02 "On School Provision for Gypsy and Traveller Children", in 1989. The 1989 Resolution was drafted with reference to the circumstances of the mobile Roma/Gypsy and Traveller population of the member states of the European Union at that time. In 1999 the EU adopted the "Guiding principles for improving the situation of Roma" in the candidate countries, which included a large number of recommendations in the field of education. However, ERIO recommends that the European Commission, in light of the upcoming accession, should in addition take a clear position on the education of Roma children. Although the EU Race Directive 2000/43/EC offers a legal tool for human rights activists, we can presume it will not be used by school staff as a guiding principle to ensure equal opportunity for Roma children. In other words, there is a gap between local level adherence and implementation of the Directive, and the provisions of the Directive itself. Ms. Kocze requested the Commission to up-date the 1989 Resolution concerning education of Roma children in the light of accession, and to provide a clear policy-guideline for member and candidate states, to improve the educational status of Roma. For many Roma children the equal opportunity to quality education is still an illusion in Europe. The educational deprivation of Roma children is embedded in three intertwined causes: racism and segregation, disadvantaged socio-economic position, and a biased and insensitive educational system. Many of them attend special schools for mentally handicapped children or study in segregated classes or schools. In extreme cases they do not attend school at all.
ERIO requests that the European Commission initiate comprehensive research in member states and candidate countries to measure the educational opportunities for Roma children. Based on this research, they should devise a comprehensive strategy to improve the social integration and educational opportunities for Roma children, and provide policy guidelines for member and candidates countries. Moreover, the Commission should urge governments to devise a mechanism to provide the necessary support for change at all levels of the system. Policies must be accompanied by appropriate implementation plans and resources, including effective monitoring and evaluation mechanisms to measure achievement. In addition, ERIO emphasizes the need for Rome representatives in the staff of the Commission and in the European Parliament as an elected MEP. Also, Roma youth should be integrated in the EU internship program. Ms. Kocze stated to the representatives of the Commission: "The future Europe cannot afford to lose a significant part of the active labor force. Each European citizen deserves the chance to be integrated into the knowledge–based economy."

The full text of the statement is available at: www.erionet.org The European Roma Information Office (ERIO) aims at intensifying the political and public discussion on Roma by providing factual and in-depth information as well as promoting Roma rights throughout European society. ERIO is an advocacy organization which promotes the inclusion of Roma and their equal participation in the European societies. ERIO executes its activities based on funds provided by Cordaid, Stichting Doen, Kerk in Actie and the Open Society Institute.



Iraq's Gypsies Struggle For Life After Saddam's Fall

By Imam El-Liethy, IOL Iraq Correspondent

BAGHDAD, May 6 (IsalmOnline.net) – Iraq's gypsies are suffering continued harassment from nearby Baghdad tribes and were forced to flee their homes when U.S. forces trundled into the Iraqi capital and declared the downfall of Saddam Hussein. Before the U.S.-led war was unleashed on March 20, there were 10,000 gypsies in Baghdad, whose reported practices of woman trading and selling drinks left them as isolated as abhorred from locals.

Most of them have been forced to leave their homes now that Saddam, who had given them shelter, is no longer in control. The Iraqi leader allowed the bad-reputed gypsies to settle down in Abu Ghreib district, 10 kilometers to the west of Baghdad, where the Zawabei tribe, known for its religiosity and links to Iraq's Islamic Movement, is populated just as an act of revenge. Settling down the gypsies was a sort of reprisal be cause the Zawabei tribe was known for strong connections with former president Abdel-Salam Arif, tribal sources said. 1/10/03



I would like the post the following from the Roma Community And Advocacy Centre: http://www.romani.org/toronto/Roma.html



CALL US ROMA, NOT "GYPSIES" !!

The word "Gypsy" comes from the Middle Ages. This darker group of people was mistakenly thought to have come from Egypt, probably because some Roma previously lived in an area called "Little Egypt." At first they were called Egyptians, then Gyptians, which eventually became Gypsies.
Like other minorities, the Roma wish to be called by a name of their own, and not one forced on them by the dominant culture. The Roma see the word "Gypsy" as a derogatory description. It connotes a stereotypical, mythological creature created by authors of fiction as a vehicle of escapism rather than a member of a genuine ethnic community. Today, it also carries allusions to a potentially criminal lifestyle because crimes committed by a wide variety of itinerant ethnic groups are collectively lumped under "Gypsy crime" or "Gypsy-type crime" by law enforcement agencies throughout North America. It is never capitalized, as it should be if it refers to a legitimate ethnic and cultural minority. The Roma, who left Northern India a thousand years ago, are a genuine ethnic group with their own language, history and culture and are no more criminal than any other ethnic group.
In Europe, the term "Gypsy" has been replaced by Roma. We hope that Canadians will also stop calling us "Gypsies", and instead start to use the singular Rom, the plural Roma, and the proper adjective Romani.
Please help us to eliminate this stereotype. It would make our efforts to integrate into Canadian society that much easier. Get used to using the words:


ROM, ROMA and ROMANI